'Tis the Season to Count our Blessings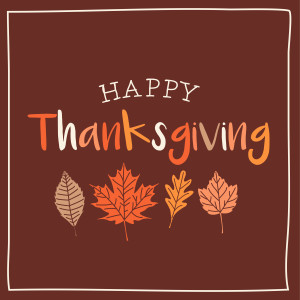 As Thanksgiving approaches, we're not only dreaming of turkey and dressing, but we're also taking time to reflect and count our blessings. At Alabama Graphics, we have many reasons to be thankful…
First and foremost, we're blessed with a talented team of employees who are dedicated to the success of the company. We believe our employees are our greatest asset. Without our hardworking team, we would not be where we are today.
Likewise, we're truly grateful for each one of our clients. We appreciate all of you for continuing to entrust your confidence in us to provide you with high-quality products and services. This year, we've had the privilege of working with clients on numerous cool projects, such as banners for the Birmingham Barons, a 3D logo for Brian's Flooring and Design, interior graphics for Sysco, panels for the Alabama Sports Hall of Fame and many more!
Because Alabama Graphics has offices in Birmingham and Montgomery, we're proud and thankful to call each of these cities home! We thoroughly enjoy being a part in these two incredible communities that continue to grow each year. Last, but certainly not least, the Alabama Graphics team is thankful for the support of our friends and families. Their constant love and support is what keeps us going.
All in all, whether you're a client, friend or family member of the Alabama Graphics team, we hope you know how grateful we are for you. From all of us here at Alabama Graphics, we hope you have a wonderful Thanksgiving holiday!
Alabama Graphics has been the state's preferred commercial printing and digital color graphics for 60 years. With more than 326 years of combined industry experience, at Alabama Graphics you gain more than a competitive edge in technology and digital printing, you gain a loyal support network, working to turn your projects into reality. From wide-format AEC prints to banners, signs and collateral material, Alabama Graphics is a proven solution for all your printing needs. Learn more at www.algraphics.com.