The Best Back-to-School Graphics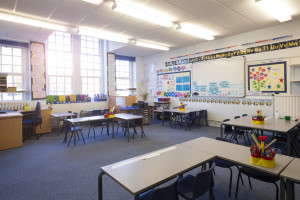 Summer is quickly coming to an end, which means it's time to get in the back-to-school groove. Whether you're advertising back-to-school sales or prepping your classroom, Alabama Graphics is equipped to handle your graphic needs. From eye-catching window displays to creative wall decals, these graphics are perfect for the back-to-school season.
For Retail Stores:
Promote sales with window graphics. Attention-grabbing window graphics are an effective way to share the details of your back-to-school promotion with customers passing by your storefront. Plus, window graphics can be installed temporarily. For inspiration, check out a few of our window graphic projects here!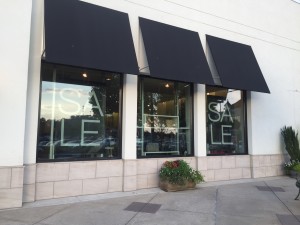 Guide customers with floor graphics and flexible displays. With floor graphics and flexible displays, you can guide customers directly to your featured back-to-school products. Because our floor graphics are OSHA-approved, non-slip and removable, they're ideal for temporary use and make use of all that floor space! Likewise, flexible displays, which are graphics mounted to a flexible, non-rigid substrate, provide effective solutions for various visual merchandising displays and indoor image displays.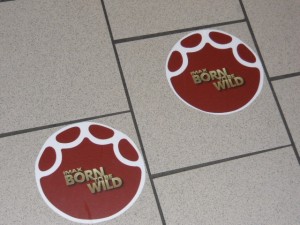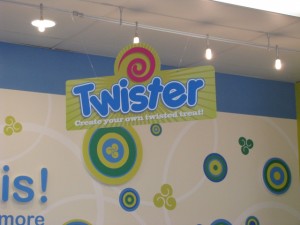 Call customers to action with pop-up banner stands. Once you've drawn customers in with window graphics and directed them with floor graphics or flexible displays, use pop-up banner stands to maximize your point-of-purchase marketing efforts. Convince customers to take action by utilizing a banner featuring bright colors, a strategic message and a unique shape.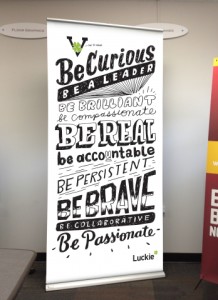 For Classrooms and Schools:
Decorate bare walls with posters. Posters provide a simple solution for adorning those boring, bare walls. They can be printed on a variety of medias: coated, un-coated, glossy, matte, satin, cloth and even canvas. Our finishing department can also mount your posters on a variety of materials and provide several poster lamination solutions, including a Dry Erase Laminate. Whether you're looking to display classroom rules, inspirational quotes or artwork, posters are the optimal low-cost solution.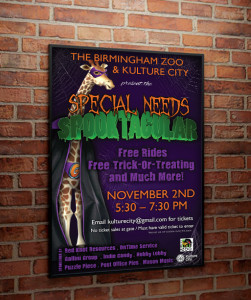 Customize your classroom or hallway with wall decals. Wall decals, or Ready-to-Apply Graphics, are another great option for decorating your classroom or school hallways. Many customers use RTA Graphics to create word walls. Consider using RTA graphics to display words of inspiration and thematic illustrations! For example, you can cover an entire wall with a giant map, a garden illustration, jungle animals or book characters. Wall decals can be installed on almost any surface and are available in any font, size or color. And, these graphics can be installed temporarily, which gives you the freedom to redecorate with every season.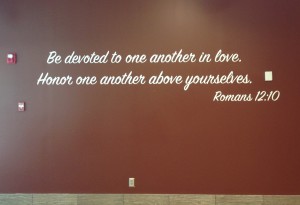 Give us a call today, and we'll help you find the best solution for your back-to-school graphics.
Birmingham: 800-292-3806 • 205-252-8505 | Montgomery: 800-463-5610 • 334-263-0529