Service Spotlight: Zünd Routing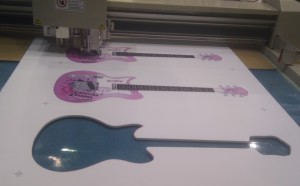 From creative signage shapes to intricate lettering, our Zünd Routing tool can custom cut and shape just about anything with extreme precision. At Alabama Graphics, we are constantly seeking and adopting the latest and greatest technology for the graphics industry to provide our customers with high-quality graphic solutions. Enter the Zünd.
What is a Zünd?
The Zünd is one of the world's most-advanced and accurate digital cutters. The centerpiece of all Zünd router modules is a high-performance, high-frequency spindle, which operates at up to 80,000 RPM, depending on material and application.
What can it do?
The Zünd provides extremely-precise contour cutting, trimming, routing and creasing of rigid materials. It can cut just about any material from plastic to vinyl and handle boards up to 48″x96" with a maximum thickness of 1.18 inches. Essentially, Zünd cutters will finish all varieties of common and newly developed materials easily, efficiently and economically. Check out the video of our Zünd router in action below.
Applications?
With the Zünd, virtually all creative graphic dreams are made possible! In today's competitive market, standout shapes and unusual materials are in high demand, and with the Zünd, our team of DCX experts can meet these demands. The Zünd is often used to create Flexible Displays, Pop-Up Displays, banners, easels, signage, backlit displays and much more. Check out a few of the projects completed with a Zünd cutter below!