Service Spotlight: Tradeshow Graphics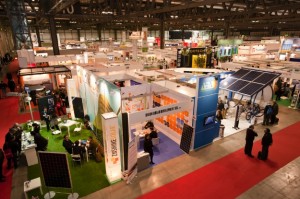 Are you ready for tradeshow season? If not, it's time to get ready. Tradeshows provide your business with a unique opportunity to capture the attention of potential customers and raise your brand's awareness.
At Alabama Graphics, we provide numerous display options for trade shows, including floor displays, banners and flags, table covers, banner displays, signage, retractable banners, event tents, table top displays, accessories and more!
With this many options, we're certain we can find one that fits your needs and budget. Plus, you can use these displays for years to come! Check out our entire tradeshow collection here.
In order to take advantage of trade shows, it's important to create attractive graphics that will stand out amongst the sea of exhibits.
Here are a few tips for designing an appealing trade show exhibit:
Incorporate bright colors and bold designs to catch the eyes of attendees. But, stay consistent with your branding so potential customers will recognize who you are. Coordinate all materials to match your branding, including displays, collateral, apparel, and promotional items.
Be sure that your messaging is clear so guests walking the show floor can easily read your displays.
Create a space that's inviting by keeping the area open and walkable. For example, use a table to display smaller items or a computer and set it off to the side to make your space more welcoming.
Offer visually interesting and memorable promotional materials. Your collateral should be useful and unique, with clear and concise messaging. Consider providing distinctive or playful promotional items that recipients can use while walking the show floor. Other attendees will take notice, which will draw attention to your brand and drive more traffic to your booth.
With these tips and our tradeshow graphics, your exhibit will be a hit! Give us a call today and let us help you create an effective tradeshow display.