Service Spotlight: Signage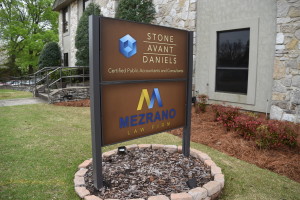 Is your current company signage outdated? Are you opening a new business? Do you need to advertise a new product, event or promotion? Take your business's marketing efforts back to the basics with custom signage. At Alabama Graphics, our DCX color division can create almost any size or shape sign you need in full color on a variety of substrates or materials.
Though signage may seem like an old-fashioned marketing method, sometimes the simplest solutions are the best solutions. Effective signage has the ability to attract customers and drive business. Though we're told not to "judge a book by its cover," many customers can and will judge a business on its signage.
Signage is typically used to display a specific message to an audience. Whether you're looking to portray a logo, text or image, we can design and produce a signage solution to fit your business's unique needs. For instance, we can create custom logo-shaped signs using our Zund cutter, which allows for accurate routing of your signs.
Depending on your signage needs, we can print on various materials. Factors that may impact our material recommendation include the use and location of the sign. For example, Coraplast signs are cost-effective, lightweight and can be used for both indoor and short-term outdoor use. Many choose to use Coraplast signs for real estate, political signs and outdoor directional signage.
For tradeshow and event signage, we recommend using Polymetal because it is strong, durable and lightweight. Also, its resistance to scratching and denting makes it easier to travel with. Another material we use for signage is Alumacorr, which is known for its consistent quality, durability and dependability. Alumacorr's thick, rigid surface is highly resistant to weather and is ideal for construction sites.
Our most durable signage material is Sintra. It's extreme durability and resistance to dents, scratches and moisture make it ideal for both indoor and outdoor use for short and long-term periods. Plus, it comes in a variety of colors, which can add to your design concept!
We can do all this and more! For additional information about the signage solutions we offer, give us a call or visit our website.
Birmingham: 800-292-3806 • 205-252-8505 | Montgomery: 800-463-5610 • 334-263-0529