Service Spotlight: Flexible Displays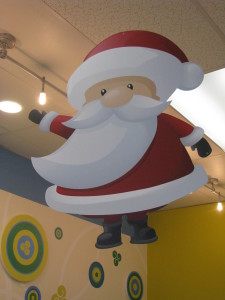 At Alabama Graphics, we design Flexible Displays to fit your ever-changing needs. Because Flexible Displays are simply graphics printed on flexible substrate, various graphic solutions fall under this category–even if the finished piece will be mounted to a flat surface!
Currently, we offer three categories of Flexible Displays that can be used for both short- and long-term applications. The thickness of the substrate determines how much flexibility the printed piece will have at the final size. For example, some flexible displays are on Sintra, others are on Styrene, but both come in different thicknesses. These high-quality materials are water resistant, and we can help you choose the right materials to ensure they retain their shape. Laminate and/or mounting adhesive can also be added to extend the lifespan of the printed piece. Though Flexible Displays can be installed outdoors, their outdoor lifespan depends on exposure to the elements. Be sure to consult us before choosing a Flexible Display for outdoor use.
A few common applications include merchandising displays, trade shows and indoor advertising. For example, the Alabama Sports Hall of Fame created Flexible Displays that covered 90-inch diameter columns using .020 Styrene panels. Each panel featured a photo of an ASHOF Class of 2016 inductee.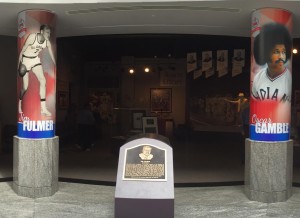 Cash & Carry Warehouse Grocery store created a large Flexible Display for the front windows of the store. As you can see in the photo below, the graphic featured the store's hours, offerings and various shoppers.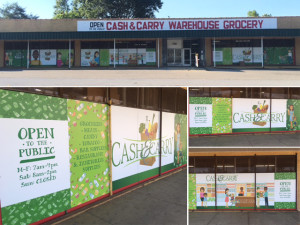 32 Degrees Yogurt Bar turned to Alabama Graphics to produce food labels and hanging graphics.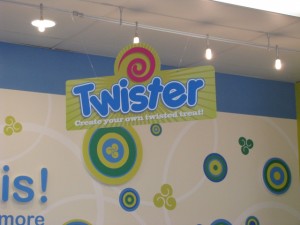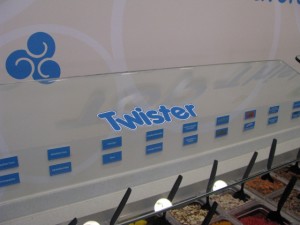 For Facility Service Associates, we created a Flexible Display for a trade show they were attending.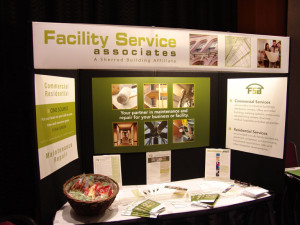 As you can see, when working with Flexible Displays, there are countless options and applications. For more design inspiration, view our entire gallery here! Questions? Give us a call today to see what Flexible Display we can create for you!
Birmingham: 800-292-3806 • 205-252-8505 | Montgomery: 800-463-5610 • 334-263-0529