Service Spotlight: Custom-Made Banners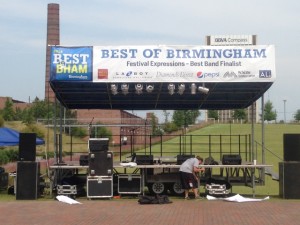 Extra! Extra! Read all about it! Banners are an excellent way to announce grand openings, sales events, sports tournaments and so much more! With our innovative technology and expert customer service, Alabama Graphics is equipped to provide you with custom-made, eye-catching banners.
Banner Benefits:
Cost-effective: Because banners are a low-cost method of displaying graphics, they are a very popular solution. Our banners are typically priced in three categories (economy, standard and premium), but we're here to work with you to determine which output will best suit your unique needs.
Transportable: Banners are also easy to be rolled and shipped making them perfect point-of-purchase signage. Our DCX team can even handle fulfillment of the order to multiple stores or individuals!
Customizable: Our DCX experts can produce any number of banners at virtually any size with every color possible. These capabilities make the custom options nearly endless!
Applications: With their resistance to humidity/moisture, light exposure and temperature exposure, banners can be used as an indoor or outdoor product. Popular applications include store fronts, sporting venues, grand openings and sports tournaments, but banners are great for any occasion! Alabama Graphics' DCX color experts have even created banners to be used as architectural accents or interior decoration in large open spaces in buildings and shopping malls.
From light poles and buildings to indoor stands and displays, banners have a home in any space. Check out a few banners we've produced for customers below and the full gallery here.