Service Spotlight: Custom Floor Graphics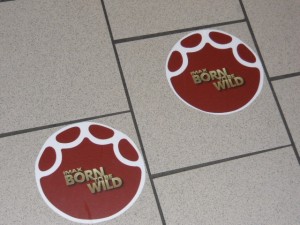 With the technology and advertising these days, catching a customer's attention is the ultimate challenge. But you're in luck, we have just the solution for you—floor graphics.
Next time you're walking around the mall or a store, take a second to glance down at the floor. This is the valuable space you could be using to promote products, events and more. Don't miss the opportunity to adorn your floors with messaging.
There's a place for floor graphics in almost any space, including grocery and retail stores, tradeshows, sidewalks, parks, churches and schools. For instance, in grocery and retail stores, you can use floor graphics to promote a new product without taking up valuable aisle, shelf or wall space. Before your next tradeshow, design attention-grabbing graphics to direct potential customers straight to your booth. Promoting an upcoming race? Consider installing custom floor graphics in high-traffic places, such as sidewalks or around a local park. These graphics are sure to attract your target audience. Floor graphics are also an effective way to guide foot-traffic during events at churches and schools or even display quotes and bible verses.
In addition to being usable in just about any space, floor graphics offer some great perks. Most notably, our floor graphics are OSHA-approved, non-slip, skid-resistant and removable, so you can even install them temporarily. Additionally, with their strategic placement, floor graphics are sure to catch the attention of customers. Last, but not least, floor graphics are a great way to reinforce your brand. Using custom floor graphics is just another tactic to create even more brand awareness.
At Alabama Graphics, we're here to be the total solution for your printing needs. If you're interested in custom floor graphics, give us a call today, and we'll work with you to design and install effective floor graphics.
Check out some examples of our floor graphics here.
Birmingham: 800-292-3806 • 205-252-8505 | Montgomery: 800-463-5610 • 334-263-0529