Safeguard Documents with Scanning & Archiving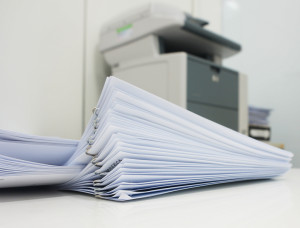 By utilizing Alabama Graphics' scanning and archiving service, you can safeguard important business and personal information. This may sound unnecessary, but think again. Following a natural disaster, insurance settlements can cover your equipment, your building and even sometimes your lost revenue, but they cannot recover lost documents and information.
Storing all of your important documents and records in one place makes your information extremely vulnerable. Once your documents are scanned and archived, our team can duplicate them for off-site storage, which will ensure your documents are protected in case of emergency. For years, the Alabama Graphics team has been managing our customers' information, both in hard copies and digital data. We're experienced in securing and organizing data in digital formats.
Not only can we scan it and store it for you, but we can also make it searchable. Using a digital filing system increases efficiency in the workplace. Instead of searching through countless file cabinets, employees can find information with just a few clicks. Our scanning and archiving service also allows files to be shared across multiple platforms, which allows employees to access information remotely. This capability enables your business to save money on copying costs, mailing costs and record retrieval.
Though scanning and archiving will save storage space, time and money, the guarantee of safeguarded documents is the most important perk. And, don't forget that we are not limited to scanning paper and small format items. Our technology and equipment enables us to scan, index and archive photos, slides and large format items, such as maps, plats and architectural and engineering drawings. If you're wondering if we can handle your specific scanning and document management needs, just give us a call for more information. Don't leave your important information at risk!
SaveSave