Project Spotlight: University of Montevallo Wallpaper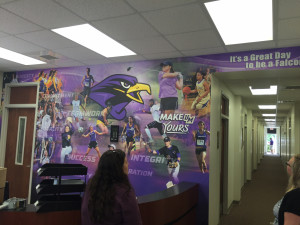 Founded in 1896, the University of Montevallo (UM) is a four-year public university located in Montevallo, AL. It is Alabama's only liberal arts college and offers academic programs within four different colleges: College of Arts & Sciences, Michael E. Stephens College of Business, College of Education and College of Fine Arts. Not only does UM offer elite education, but it also has an excellent athletic program. The university has 16 NCAA Division II athletic teams that compete in the Peach Belt Conference.
Alabama Graphics Account Executive Robert McCary had the pleasure of working with UM's Sports Information Director Wesley Hallman to spruce up the reception area of the sports department. Specifically, the large, blank wall behind the reception desk was in need of some color.
McCary and ALGX designer Carrie Evans worked with Hallman to understand the concept and design he wanted for the space. After providing a few mock-ups, UM decided to go with a graphic solution using Dreamscapes Wallpaper to conceal the entire wall. The graphic features UM's colors (purple and gold), UM's mascot (the falcon), and a collage of UM athletes from each sport, and teamwork-related phrases pulled from the UM mission statement. Hallman provided Alabama Graphics with the photos and phrases that were incorporated into the wallpaper.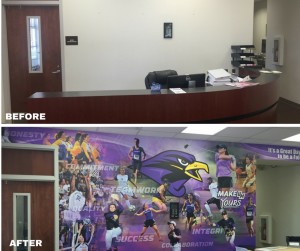 The wallpaper was installed using a traditional method similar to how wallpaper is hung in a residence or commercial property. Alabama Graphics enjoyed working with Hallman to accomplish this project, and we're pleased to say that UM has shared nothing but positive feedback! We look forward to working with them again!​