Project Spotlight: Faulkner University Custom Canvases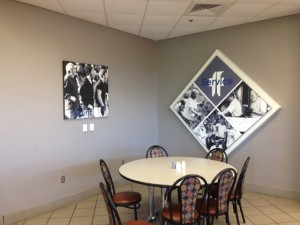 Located in Montgomery, Alabama, Faulkner University is a private Christian university affiliated with the Churches of Christ. The liberal arts university has a mission to educate the whole person by providing an education anchored in intellect, character and service. The university recently updated its main dining hall, known as The Cafeteria. For assistance with artwork and his graphic expertise, Faulkner University turned to Alabama Graphics Account Executive Jim Bradley.
As it turned out, we produced and installed five glossy, gallery-wrapped canvases that were stretched over 54×54 custom frames for the university to hang around The Cafeteria. These canvases were printed using Alabama Graphics' specialty latex printer to ensure high-quality resolution. Each canvas featured one of the school's values in blue text, such as "Tradition" or "Community," along with black-and-white photos of the students.
At Alabama Graphics, we guarantee to provide you with a custom-made graphics solution that is unique to your needs. Therefore, each project is different, and there are always a few difficulties that our DCX experts overcome to produce the perfect and personalized final product. With this project, stretching the giclee prints over the 54×54 frames and installing the canvases at an angle were the challenges. Fortunately, these were not impossible obstacles to overcome! Check out the photos of the finished products below!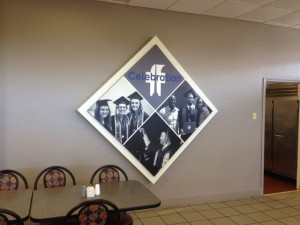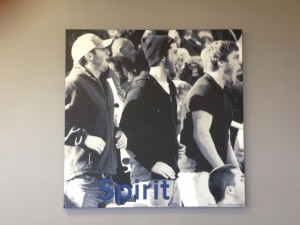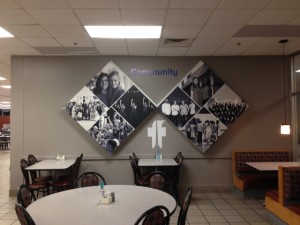 Canvas prints make spectacular pieces of wall décor and are excellent gifts! They have even become the preferred print method for fine artists and photographers. Because Alabama Graphics uses the best equipment available to produce customized canvas prints, you can trust that we will deliver a high-quality product that you would be proud to display.
Interested in installing canvases like these in your space? We'd love to work with you to find a solution that fits your unique needs. Give us a call today!
Birmingham: 800-292-3806 • 205-252-8505 • Montgomery: 800-463-5610 • 334-263-0529
SaveSave
SaveSave