Project Spotlight: Faulkner University Cafeteria Upgrade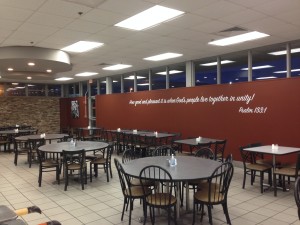 Located in Montgomery, Alabama, Faulkner University is a private Christian university affiliated with the Churches of Christ. The liberal arts university has a mission to educate the whole person by providing an education anchored in intellect, character and service.
Not only does the university offer students a caring faculty and strong academics, but it also provides them with a friendly campus complete with housing, exercise facilities and dining venues. To upgrade its main dining hall, known as The Cafeteria, Faulkner University turned to Alabama Graphics Account Executive Jim Bradley. The Cafeteria is open for breakfast, lunch and dinner, and serves nearly 600 meals a day.
First, Alabama Graphics installed Ready-to-Apply (RTA) graphics to label the different stations of The Cafeteria, such as "Fresh greens," "Breakfast Plus," "Grill," and "Beverages." RTA graphics are individually-cut letters on adhesive-backed vinyl. Because these graphics are custom-made, we can cut them in any size (over 1″), any font and almost any color–but some may need to be digitally printed. RTA graphics can be installed on most surfaces, with a mask of low-tac application tape. We also used RTA graphics to display bible verses on various walls of The Cafeteria. Check out the installed RTA graphics in the photos below!
In addition to the RTA graphics, we produced and installed glossy, gallery-wrapped canvases stretched on 54×54 custom frames. Each of these displays features one of the school's Values, such as "Tradition" or "Community," along with black-and-white photos of the students.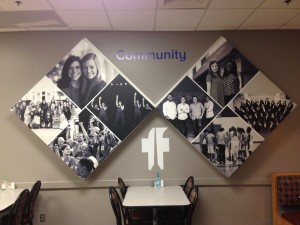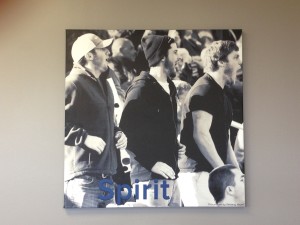 Lastly, we created an "Hours of Operation" sign and custom-cut lettering to go above the door to the SGA office. The lettering was cut from 1/2″ black gatorboard using our Zund Cutter, and the Hours of Operation sign was printed on polymetal.
We enjoyed working with Faulkner University to complete these upgrades and are very pleased with how each aspect of this project turned out! Can't wait to see what we can do for them next!