Project Spotlight: Canvas Collaboration with Bama Painting for the University of North Alabama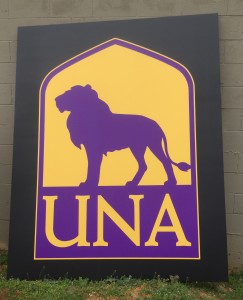 Last year, Alabama Graphics partnered with Bama Painting, a painting contractor located in Trussville, Alabama, to create wall graphics for Southern Union Community College. Recently, we were able to collaborate with Bama Painting for a second time to create custom-made canvases for the University of North Alabama (UNA).
To spruce up the walls of its activity center, UNA needed to cover some louvered panels, so they turned to Bama Painting and Alabama Graphics for a solution. After presenting several different design concepts, UNA decided to go with large canvases featuring the university's lion mascots—Una and Leo III.
These large-scale canvases require images with very high resolution. We worked closely with UNA to select the images of the lions that would work best. After choosing the images, we color-corrected and enlarged each image to the appropriate canvas size. UNA's fire-safety restrictions also required us to reinforce the canvases with a luan backing coated with non-flammable paint before installation.
These canvases turned out beautiful and bring some school spirit into UNA's activity center. Take a look at the finished canvases below.
Are you interested installing canvases like these in your space? We'd love to work with you to find a solution that fits your unique needs. Give us a call today!
Birmingham: 800-292-3806 • 205-252-8505 • Montgomery: 800-463-5610 • 334-263-0529