Project Spotlight: Brian's Flooring & Design 3D Logo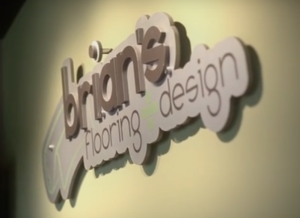 Celebrating its 20th anniversary this year, Brian's Flooring and Design is a locally-owned family business that provides flooring solutions to the Birmingham and McCalla areas. The company strives to provide the best and largest selection of carpet, hardwood, laminate, vinyl and tile in a friendly, comfortable and helpful atmosphere.
Recently, Brian's Flooring opened a new location in Downtown Birmingham—2928 6thAvenue South to be exact. After remodeling the building into a showroom, Brian McCarver and Brian Hammonds of Brian's Flooring turned to Alabama Graphics Account Executive Todd Whisenhott for his graphic expertise. McCarver and Hammonds wanted an indoor 3D logo and a few promotional items for the showroom's grand opening.
When McCarver visited the Alabama Graphics office to discuss the project, he spotted the Indy Car Sculpture that we created for Barber Motor Sports and decided that was the look he wanted for the logo. Using the car sculpture as inspiration, AGLX experts created the 3D, brushed silver Brian's Flooring logo using gatorboard and silver polymetal. You can spot the finished logo in the video below! In addition to the logo, we produced three vinyl banners and yard signs to promote the grand opening of the new location. We enjoyed working with Brian's Flooring and hope to work with them on future projects!
Birmingham: 800-292-3806 • 205-252-8505 | Montgomery: 800-463-5610 • 334-263-0529