Project Spotlight: Alabama Sports Hall of Fame
Since 1967, the Alabama Sports Hall of Fame (ASHOF) has been dedicated to the celebration and preservation of Alabama's rich sports history and tradition. Recently, Alabama Graphics Account Executives Lauri Newton and Carrie Evans had the privilege of working with the ASHOF to design and install graphics to honor the ASHOF's Class of 2016 inductees. After presenting ASHOF with a few design concepts, the museum decided to cover 90-inch diameter columns with .020 Styrene panels featuring photos of the inductees.
The Class of 2016 inductees include James Brooks (football), David Cutcliffe (coaching), Jim Fulmer (basketball), Martha Jones Lang (golf), Chris Samuels (football), Calvin Smith (track and field), and Andrew Toney (basketball). Each inductee was featured on a different column in the museum. The Induction Banquet occurred on May 21, 2016.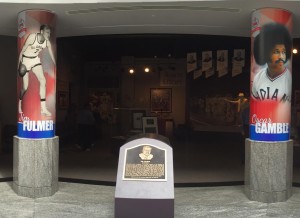 With more than 5,000 sports artifacts displayed throughout the building, the ASHOF has established itself as a benchmark for sports museums across the country. Notably, five of the top fifteen athletes included on ESPN's list of top 100 athletes of the century are honored in the ASHOF. These athletes include Olympic Gold Medalists Jesse Owens and Carl Lewis, Major League Baseball Stars Hank Aaron and Willie Mays, and championship heavyweight boxer Joe Louis.
Alabama Graphics is proud to have worked with the ASHOF to celebrate and honor the deserving athletes who have brought fame and honor to our state of Alabama and to themselves through their accomplishments.
Located on the corner of Richard Arrington Jr. Boulevard North and 22nd Street North, the ASHOF is open Monday through Saturday from 9 a.m. to 5 p.m. Admissions are $5 for adults, $4 for senior citizens (60 and over), $3 for any students, $14 for families. Groups of 10 or more receive $1 off each admission. Because the ASHOF is a non-profit organization with 501©3 status, all donations are tax deductible and personal information is withheld. Be sure to visit the museum to learn more about Alabama's exceptional sports history!