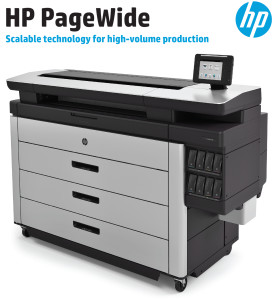 As you know, we've been chosen as one of only fifty resellers of the new HP PageWide Printers in the U.S., and now, we're thrilled to announce they're available for purchase!
The new HP PageWide Printer can be game changer for your business by bringing the speed of HP PageWide Technology to large-format printing. This new state-of-the-art printer will undoubtedly change the way our customers produce everyday large-format prints.
In case you haven't heard just how amazing these printers are, take a look at some of the facts below.
The PageWide printer is the world's fastest large-format, printing in monochrome and color.
The HP PageWide is perfect for any project from GIS maps to Point-of-Sale posters up to 40-inches wide and is known for its optimal performance.
Along with being highly reliable, the PageWide printer has a low operational costwith up to 50% savings in total production costs.
In today's world, your company needs to be able to work faster, deliver faster and, most importantly, grow faster. And with the new HP PageWide Printer, your business will be fully equipped to do so.
Call us today for more information on getting a new HP PageWide Printer in your office.
Birmingham: 205.252.8505 | Toll Free: 800-292-3806
Montgomery: 334-263-0529 | Toll Free: 800-463-5610​