How to Increase Valentine's Day Sales with Graphics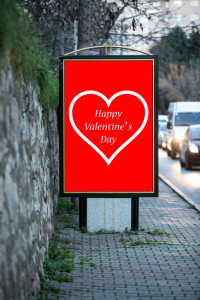 Roses are red, violets are blue, and using graphics will drive your Valentine's Day sales, too! Incorporating themes from upcoming holidays into your marketing efforts gives your business a special opportunity to reach your customers. This Valentine's Day use window graphics, floor graphics, pop-up banners, and more to boost your business' sales.
Here are a few ways to leverage the love this Valentine's Day:
Use window graphics to spark interest. Eye-catching window graphics are sure to spark interest in your Valentine's Day promotions. Customers walking or driving by will remain clueless of your latest promotion unless you adequately inform them. By installing a window graphic detailing your Valentine's Day promotion, you're sure to turn heads, attract customers, and ultimately, increase sales. For inspiration, check out a few of our window graphic projects here!
Use floor graphics to guide customers. These days we're all looking down — well down at our phones, anyway. Steal your customers' attention and guide them directly to your featured Valentine's Day product or event with a festive floor graphic. Our floor graphics are OSHA-approved, non-slip and removable. Check out a few examples here!
Use pop-up banner stands as point of purchase displays. Not only can pop-up banner stands publicize Valentine's Day products or promotions, but they're also a great way to maximize point of purchase marketing efforts. Catch the eye of the customer with a banner featuring bright colors, a strategic message and a unique shape. For some ideas, check out our gallery of pop-up banner stands here!
Be sure to include your business' phone number, website and social media sites on your graphics to give customers the opportunity to engage further with your business. However you choose to sweep customers off their feet this Valentine's Day, we're here to help! Give us a call today to see how we can help drive your holiday sales.
Birmingham: 800-292-3806 • 205-252-8505 Montgomery: 800-463-5610 • 334-263-0529