How to Drive Sales with Holiday Graphics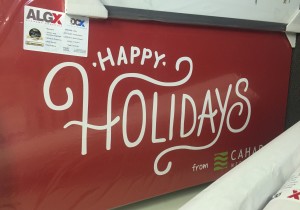 For various reasons, the holidays are often the busiest time of year for both individuals and businesses. With the end of the year approaching, you're striving to reach goals and tie up loose ends all while attending holiday parties and completing shopping lists. Fortunately, Alabama Graphics is here to help!
Though we cannot attend that extended family gathering or shop for your in-laws, we CAN help you drive sales with holiday graphics. Even if you've already planned your holiday marketing strategy, using traditional marketing tactics, such as graphics, to enhance that strategy will help you maximize sales this holiday season.
Use posters, banners and/or yard signs to promote holiday sales and events. Posters, banners and yard signs are a simple and cost-effective way to promote a holiday celebration, especially if it's a local event. These graphics are easy to place around the community to get the word out. Consider hanging a big, attention-grabbing banner in a high-traffic area, place posters in local stores and restaurants, and spread yard signs throughout the neighborhood. For more information and design inspiration, check out our poster and banner galleries!
Use window graphics to entice customers.Inviting, eye-catching window graphics are a great way to broadcast your seasonal promotions or simply spread holiday cheer. With countless customers bustling by your business throughout the holidays, window graphics provide an excellent opportunity to catch their attention and utilize your storefront. For instance, check out the graphics we completed for Gus Mayer and Wiggins, Childs, Pantazis, Fisher & Goldfarb, LLC. Ultimately, installing holiday window graphics is an effective way to decorate your storefront, entice customers and promote holiday sales.
Use floor graphics to guide customers.Once you lure customers in with window graphics, guide them directly to your featured holiday product or event with directional floor graphics. Because our custom floor graphics are OSHA-approved, non-slip and removable, they're perfect for temporary use. Check out a few examples here!
Use pop-up banner stands as point of purchase displays.Not only can pop-up banner stands publicize holiday products and promotions, but they're also a great way to maximize point of purchase marketing efforts. Catch the eye of the customer with a banner featuring festive colors, a strategic holiday message and a unique shape. For some ideas, check out our gallery of pop-up banner stands here!
Be sure to include your business' phone number, website and social media sites on your graphics to give customers the opportunity to engage further with your business. Whether you go with posters, window graphics, floor graphics, banner stands or all the above, we're here to help! Give us a call today to see how we can help you "deck the halls" while driving holiday sales.
Birmingham: 800-292-3806 • 205-252-8505 Montgomery: 800-463-5610 • 334-263-0529