How Franchises Can Utilize Alabama Graphics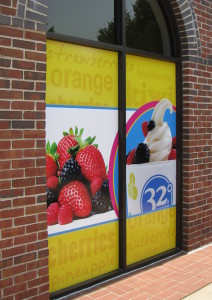 Calling all franchisees! Alabama Graphics can be a reliable resource for you. With our services, we can help you manage important documents while streamlining your marketing efforts.
First of all, our scanning and archiving services will allow you to efficiently store and distribute important franchise documents. With this service, you can quickly scan paper documents and convert them to space-saving and sharable digital files. Not only will this keep your documents safe and protected in case of emergency, but you'll also no longer have to deal with lost records and expensive storage space. Most importantly, utilizing this service will provide each franchise with easy access to important franchise documents, such as the operation manual, marketing plans and franchise agreements.
Secondly, Alabama Graphics' printing and design services can help you create effective and consistent marketing materials, such as signage, banners, window and floor graphics, posters, displays and more. Marketing materials like these are crucial to spreading the word about your business's products, services and events. With our help, you can easily duplicate projects for each new franchise.
Here are a few franchises we've worked with:
Whether your franchise is interested in producing promotional items or managing its documents, we're here to help. Give us a call today, and we'll find the perfect fit for your franchise.
Birmingham: 800-292-3806 • 205-252-8505 | Montgomery: 800-463-5610 • 334-263-0529