Go Paperless with Scanning & Archiving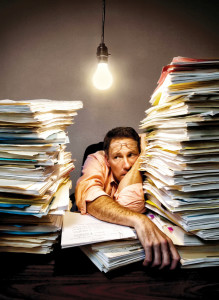 Say goodbye to piles and piles of disorganized paperwork and say hello to our scanning and archiving service. Electronic Document Management is revolutionizing how businesses conduct everyday operations—don't be left behind!
You may be wondering if this service is right for you. The answer is yes. Some specific fields that benefit tremendously from Electronic Document Management include human resources, accounts receivable/payable, facilities management, sales/marketing, education, records management, legal/litigation, medical, architectural, engineering and construction. Essentially, if you're dealing with paperwork and records, this service will benefit you in numerous ways.
Our scanning and archiving service simply converts paper documents into organized and searchable digital files. These documents can include purchase orders, invoices, building plans, records, client files, day-to-day administration documents and more. Imagine the space you would save if these documents were converted into digital files…
In addition to saving storage space, our scanning and archiving service enables you to:
Streamline your workflow. With an efficient digital filing system, you and your team will be able to search for specific records using a keyword or phrase. Making documents easily accessible will certainly make any office more productive. Electronic Document Management will not only provide paperless storage, but it also allows employees to access information remotely.
Protect important documents. Your records are important assets and storing them in one place puts your business at risk. Protect these assets against loss by utilizing Electronic Document Management. Once your documents are scanned and archived, we can duplicate them for off-site storage, which will ensure your documents are protected.
Save money. Utilizing a digital filing system eliminates the need for document storage space, copying costs and mailing costs.
If the process sounds too complicated, don't worry. Our Electronic Document Management Specialist will happily work with you and your team to fully customize your digital filing system. For more information on our Electronic Document Management Services, and how they can benefit you, give us a call today!
Birmingham: 800-292-3806 • 205-252-8505 | Montgomery: 800-463-5610 • 334-263-0529