Four Reasons You Should Be Scanning and Archiving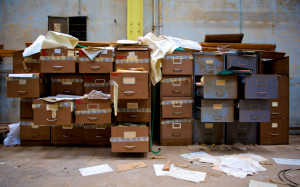 In our increasingly paperless world, there's no reason to depend on overstuffed file cabinets. There are, however, many reasons to rely on our scanning and archiving serviceto safeguard and store your business's important documents.
1. Save Space.
Storing endless paper documents in cabinets can take up a large amount of prime real estate in your office, right? Lucky for you, scanning and archiving solves this issue. At Alabama Graphics, our document imaging services can quickly scan your paper documents and convert them to efficient, space-saving digital files. Imagine what you could do with that extra office space…
2. Avoid Devastating Losses.
You never know what can happen at your place of business. Storing all of your important documents and records in one place puts your business at risk. Scanned records can be your saving grace in the case of an emergency. Once your documents are scanned and archived, we can duplicate them for off-site storage, which will ensure your documents are protected.
3. Increase Efficiency.
A digital filing system will make it easier for employees to search for information using a keyword or phrase. Instead of wasting time digging through file cabinets, employees can find information with just a few clicks. Additionally, document scanners allow files to be shared across multiple platforms making it easier for employees to access information remotely.
4. Lower Operating Costs.
Scanning and archiving documents eliminates the need for document storage space, copying costs and mailing costs. Stop throwing away money on these trivial expenses and start saving money by utilizing our document imaging services.
Plus, we are not limited to scanning paper and small format items. Our system enables us to scan, index and archive photos, slides and large format items, such as maps, plats and architectural and engineering drawings. You name it, we can scan it.
Ultimately, digital document storage will reduce business losses while saving you space, time and money. So, what are you waiting for? Give us a call today and let us help you.
Birmingham: 800-292-3806 • 205-252-8505 Montgomery: 800-463-5610 • 334-263-0529