Festive Fourth of July Graphics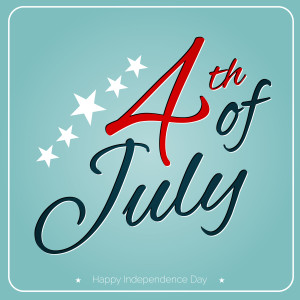 It's time to get festive for the Fourth! At Alabama Graphics, we have plenty of graphics solutions to help your business celebrate and publicize its sales promotion, new product or special event. Using holiday themes, like the Fourth of July, in your marketing efforts provides you with a special opportunity to appeal to your customers.
To decide what graphics will work best for you, first determine what it is you're promoting. A sales promotion or a new product? Consider using in-store floor or window graphics. Hosting a Fourth of July barbecue or fireworks show? Colorful banners, posters or yard signs may be your answer. If you're not promoting anything in particular, simply adorn your store or business with red, white and blue graphics to celebrate our country's independence.
Window Graphics: If you're advertising a sales promotion or special holiday product, design and install attention-grabbing window graphics to lure customers off the streets and into your store. Though it may be tempting to stick with the usual stars and stripes, don't be afraid to get creative with artwork and text. Window graphics are also an easy way to promote your business's website, social media sites and phone number, which allows potential customers to learn more about your business and current sales promotion. For inspiration, check out a few of our window graphic projects here!
Floor Graphics: Once you catch customers' attention with window graphics, continue to guide them inside and around the store with directional floor graphics. Because our custom floor graphics are OSHA-approved, non-slip and removable, they're perfect for temporary use. Check out a few examples here!
Posters, Banners and Yard Signs: Posters, banners and yard signs are a simple and cost-effective way to promote a Fourth of July celebration, especially if it's a local event. These graphics are easy to place around the community to get the word out. Consider hanging a big, eye-catching banner in a high-traffic area, place posters in local stores and restaurants, and spread yard signs throughout the neighborhood. For more information and design inspiration, check out our poster and banner galleries!
Whether you go with extravagant window graphics or eye-catching posters, our Digital Color Experts are here to make your red, white and blue stand out to your customers. Give us a call today to see how we can help drive your holiday sales, products and events.
Birmingham: 800-292-3806 • 205-252-8505 | Montgomery: 800-463-5610 • 334-263-0529