FAQ: How Often Should I Replace My Signage?
At Alabama Graphics, our goal is to provide our customers with appealing outdoor signage solutions that can endure the harsh outdoor elements for an extended time period; however, "an extended time period," is NOT forever. This leads us to the frequently asked question, "How often should I replace my signage?" In general, our DCX experts advise that you replace and refresh the look of your outdoor signage every 5-8 years, depending on several factors, such as the ones listed below.
Environmental Factors: Ultimately, the environment plays the biggest contributing factor to the lifespan of outdoor signage. We typically use Coroplast, PolyMetal or Alumacorr for outdoor signage purposes. Though these materials are made to endure temperature changes, moisture, humidity and UV exposure, there's only so much that they can take. Outdoor signs in areas with intense, variable weather conditions will likely show wear-and tear sooner than places with rather temperate weather conditions.
Internal Re-branding: Has your store or business recently re-branded? If so, it's time to replace your signage. From business cards to signage, it's vital to change all business marketing materials to reflect the new message. For example, after this Birmingham apartment community changed its name, it updated its signage to avoid confusion. Check out the before and after photo!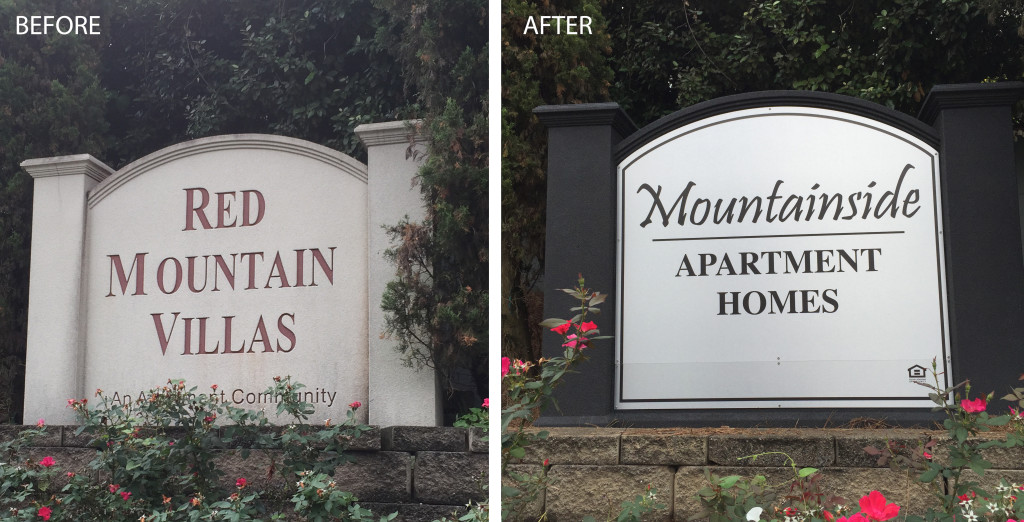 Overall, it's important to remember that the appearance of your signage speaks directly to your business. Old, faded signs with outdated graphics may indicate that your business (and its products and services) are outdated and irrelevant. Your business and storefront signage should be fresh, eye-catching and support your current marketing initiatives!
Businesses and stores are not the only places that require relevant and refreshed signage. Schools, parks, camps, restaurants, offices and more should also replace their signage from time to time. Sometimes you may not realize how out-of-date your signage is until you replace it! For instance, the YMCA's Camp Cosby, which is located on Lake Logan Martin, recently replaced its entrance signage. Check out the before and after picture below!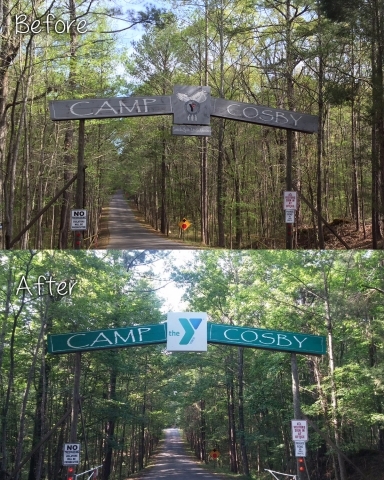 If you're interested in replacing your signage, need additional information or have questions about your specific signage situations, give us a call today!
Birmingham: 800-292-3806 • 205-252-8505 | Montgomery: 800-463-5610 • 334-263-0529