ALGX's Top 10 Project Spotlights of 2016
In 2016, Alabama Graphics was not only named one of the Top 60 Print Shops in America by Wide-Format Imaging magazine for the fifth year in a row, but we also took part in several successful projects. Join us as we look back at our top project spotlights of 2016:
1. Birmingham Barons Graphics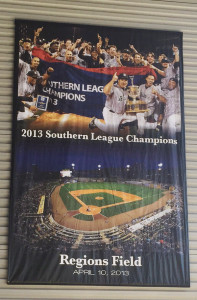 The local minor league baseball team turned to Alabama Graphics to produce two over-sized mesh banners for the inner walls of Region's Field before their 2016 season. The newly-constructed, 8,500-seat baseball stadium is in Downtown Birmingham near Railroad Park. Learn more about the project here.
2. Faulkner University Cafeteria Upgrade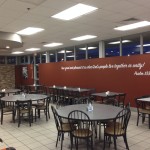 To upgrade Faulkner University's main dining hall, Alabama Graphics produced and installed Ready-to-Apply (RTA) Graphics, gallery-wrapped canvases, custom-cut lettering and an "Hours of Operation" sign. Learn more and check out photos of the project here.
3. Alabama Sports Hall of Fame Graphics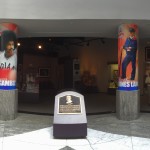 To honor its Class of 2016 inductees, the Alabama Sports Hall of Fame covered its 90-inch diameter columns with .020 Styrene panels featuring photos of the inductees. Learn more about the graphic solution we provided for them here.
4. Printing for a Cause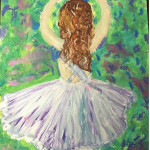 This year, we had the privilege of working with 6-year-old artist Lorelei Posey to reproduce her paintings so she could sell them to raise money to support her Godmother's dream of adopting a baby. Using our Scan-to-Print Service, we scanned Lorelei's original paintings and printed them on various substrates. Learn more about the project and Lorelei's philanthropic efforts here.
5. Sysco Interior Graphics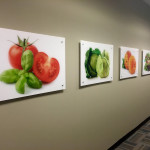 After completing an office renovation, Sysco needed additional color and upgraded signage to finish the job. Alabama Graphics produced brushed silver logos out of gatorboard and high-quality food images printed on gatorboard pieces mounted in frames and acrylic/plexi pieces mounted in standoffs that were installed throughout the building. Learn more about the project here.
6. University of Montevallo Wallpaper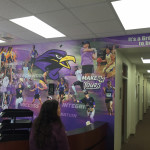 Alabama Graphics spruced up the University of Montevallo Sports Department's reception area with a Dreamscapes Wallpaper that brought color to a large, blank wall. Learn more about the project here.
7. Gus Mayer Holiday Window Graphics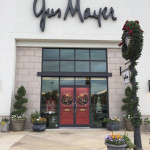 To get into the holiday spirit, this Birmingham-based department store installed festive window perfs on the front doors of its location at The Summit. The final design portrayed Christmas wreaths photo-shopped to look like they are hanging on two wooden red doors. Learn more about the window graphics here.
8. Brian's Flooring & Design 3D Logo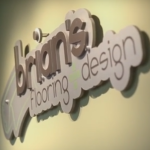 In addition to celebrating its 20th anniversary this year, Brian's Flooring and Design also opened a new location in Downtown Birmingham. After remodeling the building into a showroom, the local business owners turned to Alabama Graphics to produce an indoor 3D logo as well as vinyl banners and yard signs to advertise the showroom's grand opening. Learn more about the project here.
9. Canvas Collaboration with Bama Painting for the University of North Alabama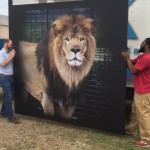 This year, we partnered with Bama Painting for a second time to create custom-made canvases for the University of North Alabama (UNA). UNA wanted to conceal some louvered panels, so we produced and installed large-scale canvases that featured the school's lion mascots. Learn more about the canvases here.
10. The Exceptional Foundation Chili Cook-Off Graphics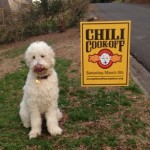 Each year, The Exceptional Foundation hosts a chili cook-off to raise money to support its programs. To help the nonprofit promote this year's event, we printed large banners, fliers, 200 yard signs and 16 posters. Learn more about the chili cook-off and the graphics we produced here.
We're extremely proud of the projects we completed with these local businesses, and we look forward to working with each of them in the future! Happy New Year!