ALGX Project Spotlight: Printing for a Cause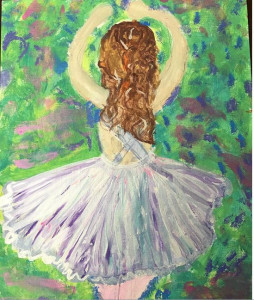 Lorelei Posey is not your typical 6 year-old. She is a talented artist and generous philanthropist, and Alabama Graphics is proud to take part in her cause.
It all started in January of 2015, when Lorelei began taking art lessons. Her hobby quickly turned into her passion, and in April 2015, Lorelei decided she wanted to sell her artwork to financially support her Godmother's dream of adopting a baby with her husband.
Lorelei worked on her paintings for months in preparation for a community art show, which was held in December of 2015. According to WIAT.com, the art show raised $2,000, but Lorelei plans to continue selling her paintings on Etsy.
For help in reproducing her paintings, Lorelei turned to Alabama Graphics. We were able to scan her original paintings and print them on various substrates, such as frameable photo prints and wrapped canvasses. With our color solutions and printing capabilities, we were able to recreate the paintings without losing their original look and feel.
Our Scan-to-Print service is great to use for repurposing original artwork into posters, banners, flyers and more. As a company, we are overjoyed to have played a part in Lorelei's success, and wish her lots of luck in helping her Godmother achieve her goal of adoption!
We'd love to help you find a printing solution for your needs, as well. Give us a call today!
Birmingham: 800-292-3806 • 205-252-8505 Montgomery: 800-463-5610 • 334-263-0529