Advertise On-the-Move with Vehicle Graphics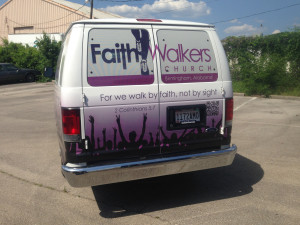 Whether we're commuting to work, running errands, driving carpool or taking a road trip, we are constantly on-the-move. Many of us spend more time in our cars and on the road than we do at home. Vehicle graphics your business with the opportunity to advertise on the move.
From complete vehicle wraps to window decals, our DCX experts can help design and install the graphics you need to take your brand on the road. Vehicle graphics not only demand attention, but they also reach countless potential customers every time the vehicle hits the highways. Branded vehicles also compliment advertising campaigns and enhance brand exposure. There are various ways to customize and brand vehicles with graphics. Check out a few options below!
Full Vehicle Wrap: With this option, our DCX team installs a complete covering of the vehicle. As you can see in the photo below, even the windows of the vehicle are covered with graphics; however, these are installed using a product that allows you to see out while driving. Full vehicle wraps are an effective way to make your vehicle and company stand out on the roadways.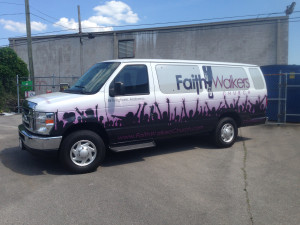 Cut Letters: Because these graphics can be quickly applied and are less-expensive than full vehicle wraps, they are a great way to add your company's name, logo, phone number and website to the side panels of vehicles.

Car Magnets: Alabama Graphics also produces car magnets, which serve as a great temporary and cost-effective advertising tools.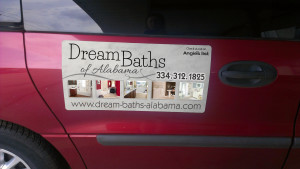 Vehicle graphics typically have a life span of 3 to 5 years. If you're interested in building brand exposure on-the-move, give us a call today! And remember, before vehicle graphic installation, we ask that you please wash, but do NOT wax the vehicle.