3 Tips for Using Holiday Graphics to Drive Sales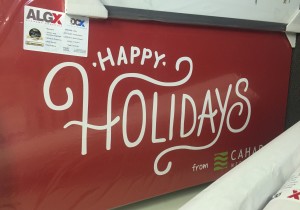 With it being the holidays, and the busiest time of year for many companies, you probably have your holiday marketing strategy planned out by now. But even if you don't, it's not too late! We can help you maximize sales this season, and help you take those plans a step further and reach more people, even if you're on a budget!
Having a promotion on a popular item is great, but this can be tricky for many small businesses that may not have the means to "promote their promotion." A good deal is no good if no one's aware of it, right? That's why installing affordable window graphics is an easy route to take to let everyone know about the great holiday deal you're offering.
Here are 3 tips you can use for your Holiday Graphics like: Window Graphics, Ready-To-Apply Graphics, Banners or Posters, to bring potential customers in your doors and drive sales this season.
Stand out. You want your banners and other signage to be visible from a distance and stand out against neighboring businesses. Also, you want to be sure to utilize any storefront windows to entice people to come visit you. (If you choose Ready-To-Apply window graphics, solid white is a great choice to the best visibility. Dark colors tend to get lost, unless there are lighter colors around them!)
Be creative. At ALGX, there's so much we can do; the possibilities are endless. Our talented staff can create eye-catching graphics for your business. So if you happen to be a more logistic thinker than a creative one, no worries, we've got you covered!
Be interactive. Not only should your signage entice people to come in your doors, but it should direct people on where to go to interact with your business at any time. For example, directing them to your Facebook page or your website to browse your products. Either way, be sure their experience with your company doesn't end with the graphic.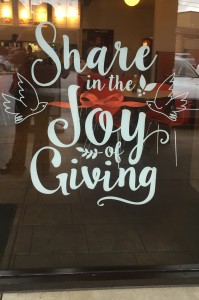 With the tips above on how to utilize holiday graphics, you can be sure that your business doesn't miss out on a single sale this holiday season!
See more window graphics here